WELCOME
PROUD WINNERS OF OUTSTANDING CLUB OF THE YEAR 2020
ABOUT US
Welcome to Crosskeys Netball Club, established more than 40 years ago to provide sporting opportunities to young people across the local community.
We pride ourselves on being a friendly and welcoming club that has expanded over the years to having 250+ members across a wide age range of ages, abilities and backgrounds participating in a number of local, county and regional leagues.
In our 40th Anniversary year we were awarded England Netball's highest award, the National Goalden Globe Award (now ONE award), the only club in the area to have achieved such an accolade.
TESTIMONIALS
I have been with Crosskeys almost a year now after taking the big leap moving from my old club, where I had lost all of my confidence and considered giving up on netball completely. The move has been one of the best decisions I have made. Everyone is so welcome and inclusive, the training sessions are fun but informative with the best coaches and there are so many opportunities for every level of netball. I am a different player to what I was this time last year and most importantly…I LOVE netball again! Sorry Crosskeys, but you're not getting rid of me now!
Bryony Smart
Senior Player | County League
My daughter joined Crosskeys just before lockdown and was made welcome from the start. Both coaches and the other Keys girls were friendly and she felt at home instantly. The training has been of a high quality and the team has gone from strength to strength. My daughter has developed her skills and mindset and is much more confident in her game play and even gained a place in county squad for the past 2 years and more recently the u15 pulse academy. Crosskeys is more than just training it's also a family to her (and me)
Lucy O'Rielly
U14 Parent | Performance Pathway | ERYL Squad
OUR CLUB COORDINATOR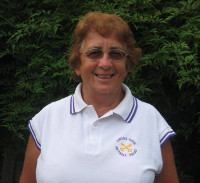 It means so much to me that Crosskeys welcomes players from 6 years to adult with a wide range of abilities. The club provides the opportunity for all members to reach their full potential. I am proud that the Club provides such a supportive environment and that the welfare of all members is one of our main priorities.
Pat Longville
Club Coordinator and Founder